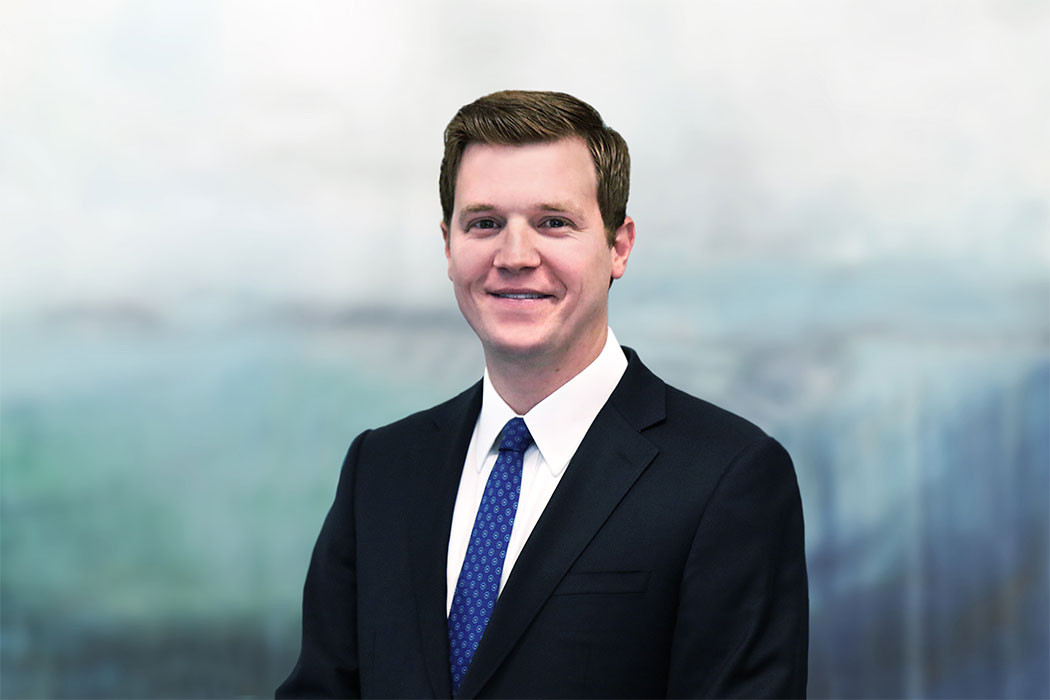 Partner
Tyler Bexley
---
214.382.9805
"Tyler was an integral part of a highly successful litigation that was crucial for the future of our company.  His intelligence, attentiveness, and hard work set him apart from any other attorney we have worked with.  He was more than outside attorney to us; he was part of our team and clearly focused on our ultimate success." — Mike Mackey President, Everest Infrastructure Partners
Overview
Tyler Bexley is a commercial trial lawyer who represents businesses and individuals in high-stakes litigation. In the past three years, his trial experience includes a multimillion-dollar patent trial defense, a two-week jury trial defending an international software company in a multimillion-dollar trade secrets case, a jury trial involving a multimillion-dollar loan guaranty, a jury trial over a construction contract dispute, a bankruptcy trial involving a contested fiduciary duty claim, and an arbitration arising from a physician employment dispute.
In a recent case in 2017 with Reese Marketos partner Adam Sanderson, Tyler successfully defended one of the nation's leading providers of law enforcement video surveillance technology in a multimillion-dollar patent infringement suit. After a week-long trial in the United States District Court for the Eastern District of Texas, the jury unanimously found in favor of Tyler's client on every question presented, rendering a verdict of non-infringement and patent invalidity. Before trial, the plaintiff sought to recover more than $15 million in damages, but as a result of the verdict, the plaintiff took nothing on its claims. Click here to read a recent article from the Texas LawBook about the win.
In addition to his trial experience, Tyler has successfully represented clients in injunction hearings and administrative proceedings. He was a member of a team that won a complete victory following a five-day administrative proceeding for a bank officer in an enforcement action brought by the Comptroller of the Currency. In May 2017, Tyler secured a preliminary injunction in the United States District Court for the District of Nevada freezing the assets of a judgment debtor and his affiliated entities. Following Tyler's briefing and oral argument, the court found that the judgment debtor had evaded a multimillion-dollar judgment and that his affiliated trusts and corporate entities were subject to an asset freeze as potential alter egos of the debtor. The asset freezing order was profiled in Forbes and Law360 articles.
Tyler's advocacy also has helped many of his clients successfully resolve cases before trial. He recently won complete summary judgment and a substantial award of attorneys' fee for a regional bank against a borrower that was seeking to avoid repayment of a multimillion-dollar commercial loan. He also helped a startup telecommunications company obtain a favorable settlement against its Fortune 500 competitor in an antitrust and unfair competition case with nearly a billion dollars at stake. The case settled on the eve of trial after Tyler helped persuade the court to grant summary judgment on the competitor's antitrust and RICO counterclaims.
Tyler has published articles in law reviews and trade publications, including the Texas Law Review, Independent Banker Magazine, and Bankers Digest. He also was recognized as a Rising Star in Business Litigation by Thompson Reuters' Texas Super Lawyers publication for the years 2016, 2017, and 2018.
Before joining Reese Marketos, Tyler was an associate in the litigation section of a large international law firm for five years. During that time, he represented numerous clients in commercial disputes and jury trials. He also gained valuable experience through the firm's pro bono program, including serving as lead counsel in more than a dozen jury trials as a visiting prosecutor in a municipal court.
Awards
Rising Star by Super Lawyers, 2016 – 2017
Education
University of Texas School of Law
Juris Doctor, with high honors, 2010
Order of Coif, Texas Law Review
Baylor University
Bachelor of Business Administration, 2007
Admissions
Texas Supreme Court; Fifth Circuit Court of Appeals; U.S. District Court for the Northern, Eastern, and Western Districts of Texas